Sixteen years ago, I was happily able to reach a professional goal, by introducing my trained therapy dog into my clinical practice.
This was Ivy , a blue merle Australian Shepherd. She was an alert, intuitive and responsive therapy dog. Ivy was included in many children's sessions. She was dressed up in costumes, followed children's commands, fetched many a ball … With adults, Ivy was an ever present source of comfort and love. True to her breed, she lived her life to respond to my lead, so it was a great loss when she passed in 2008.
Fritz has been trained to be a therapy dog since his adoption at 8 weeks old. Now 8 years old, he knows his job. He is a Standard (Party) Poodle, which means he really smart, but also hypo-alergetic. Fritz has been my companion, well, really the "star", at parades, meetings, schools, community fund raisers, and, of course, in therapy sessions.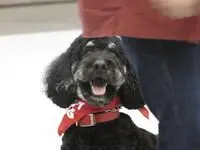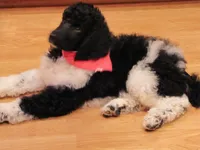 Ida Mae
Though now 4 years old, Ida Mae will always be a puppy in spirit. She is vibrant and very friendly. Though she is a large breed standard poodle, if you let her, she will curl up in your lap and stretch her long legs up around your neck.